April 20, 1929 Air Race sponsored by Oil Companies Featured Women Racers
A crowd of 50,000 people attended Oakland's April 1929 air race which featured five events: three speed races, a speed race targeted to women pilots, and a dead stick (no propulsion power) landing contest. The air race was sponsored by the major oil companies who provided $2,000 total of cash prizes, and the 5.2 mile course was laid out by members of the Oakland chapter of the National Aeronautic Association. This race is notable for being the first officially sanctioned women's air race. Although only two women participated, Alaskan pioneer, Marvel Crosson, increased her popularity by winning the race.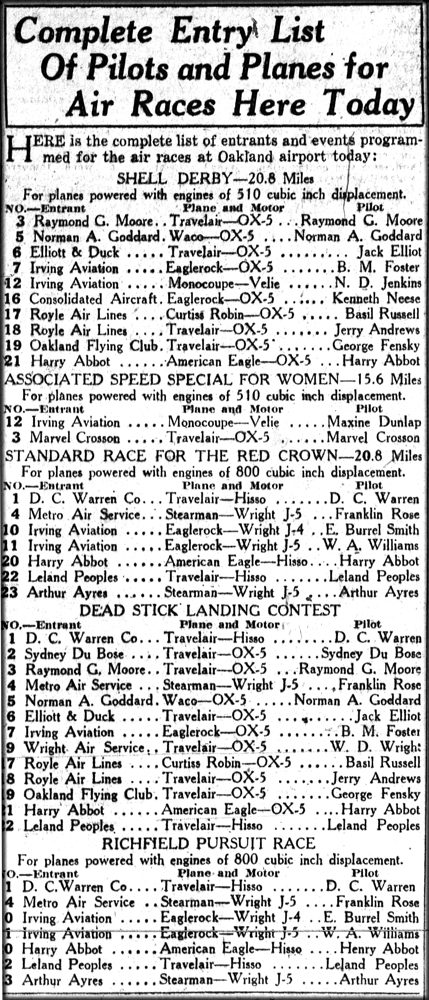 The Program was as follows:
Noon to 2:00 pm: inspection of airplanes and hangars and sight-seeing air trips
2:00 pm: Shell Derby ($250 first prize)
3:00 pm: Associated speed special for women ($150 first prize)
3:30 pm: Sight-seeing trips by members of the Oakland Airport Pilots and Operators' Association
4:00 pm: Standard race ($250 first prize)
4:40 pm: Dead stick landing contest ($100 first prize)
5:10 pm: Richfield pursuit race ($250 first prize)
6:00 pm: Banquet in Hangar One (leased by Western Air Express), reading of technical papers
10:30 pm: Night flying by B. M. Doolin, of Standard Oil Company, and Eugene C. Johnson, of Pacific Air Transport.

The Oakland Tribune printed the complete entry list of pilots and planes. State Assemblyperson, Dan Emmett, landed with two passengers signing the Register a few hours before the start of program.