Thomas Petts Penfield (1897-1993) – "Flying Twin" Instructor and Phyllis Goddard's Second Husband
Thomas Petts Penfield flew to Oakland on August 16, 1927 (before the pilot register started on September 27, 1927) to see the Dole Air Race to Honolulu. At that time, Oakland's 7,200-foot runway was the longest in the world, and it took 50 minutes at a speed of 80 mph to fly to Oakland from Modesto, his home base. Beginning in March 1928, Tom Penfield signed the Oakland Register 11 times. His longest stay was when he and his twin brother, John, starred in the aerial portion of Howard Hughes' film, Hells Angels, spending October 29 to December 7, 1928, using their planes in the dogfight scenes. He flew with transport license #1611 and had a reputation as an experienced, careful pilot.

The flying twins were born on November 8, 1897, in San Diego, and had three older sisters. Their father, a carpenter and farmer, steered the twins to farming, too, until the day they heard army training planes at a nearby fair in 1920. They built their first plane, the Doodlebug, and purchased a plane for $500 three years later in March 1927 for their commercial flying service and school in Modesto. Following the dedication of San Francisco's Mills Field in May 1927, Tom along with 33 other pilots flew in the second statewide aeronautical conference educational tour to Sacramento and Fresno. In January 1930 his plane crashed and overturned in deep snow at Grants Pass, Oregon. Two months later he won the dead stick landing1 contest at the City of Modesto's first air show attended by 25,000 people and 70 airplanes from throughout California.
Meanwhile at the Stanford campus in Palo Alto, Norman Goddard and his wife, Phyllis, owned and operated the 70-acre Goddard Airport. Stanford students could get a college degree and a pilot license with 25 hours in the air including ten solo hours. After the death of Norman Goddard in a glider accident in January 1930, Associated Air Services, Ltd. of San Francisco, a distributor of the Fleet line of aircraft, leased the airport with Paul Mantz as chief pilot. Paul Mantz hired Tom to conduct air inspections for the U.S. Forest Service, and Tom and Phyllis were married in July 1931.
In January 1933, Tom flew two men holding a big sack from Palo Alto to San Francisco's Mills Field. He became suspicious and upon landing reported the men to the police who followed them to a hotel on Powell Street. At the hotel, the police found $2,000 in cash (stolen from the California Theater in San Jose), silver, guns, and a gallon of whiskey and wine (Prohibition lasted until December 1933). The robbers were eventually captured, but the California Theater never recovered all its money.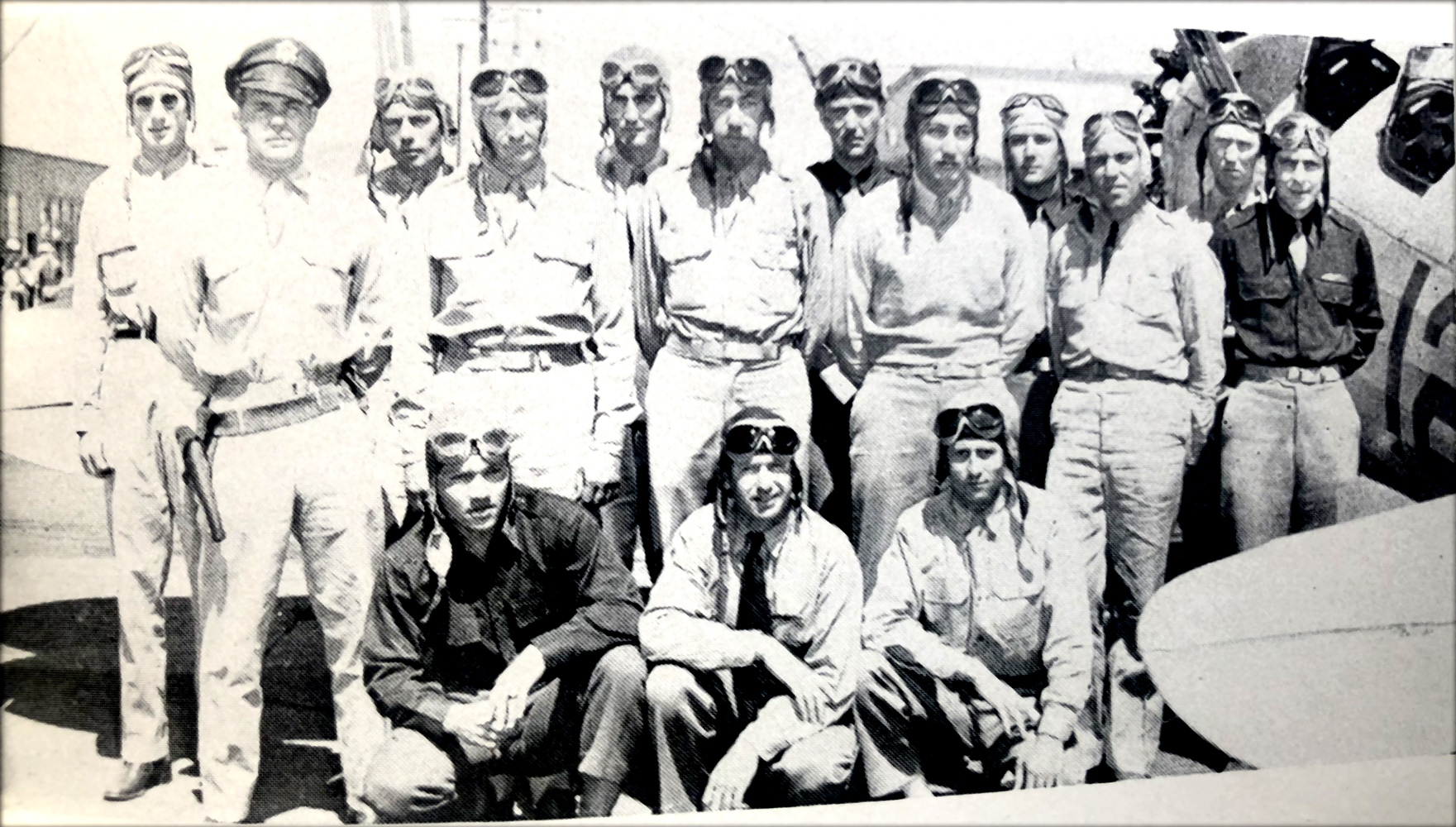 In 1934, after years of citizen complaints, the City of Palo Alto moved the airport from Stanford University to its current location on Embarcadero Road. Tom remained a commercial pilot at the new Palo Alto Airport until 1942. With the U.S. engaged in WWII, Tom and Phyllis to the City of Santa Maria where Tom was hired as a flight instructor in the Army Primary Flight Training program at the Hancock College of Aeronautics. Tom remained a squadron commander throughout the war. When the school disbanded in 1944, Tom became the personal pilot for Captain Allen Hancock's2 La Brea Securities. Tom retired from flying when Hancock passed away in the 1960s.
Tom is shown sixth from left in photo from the Hancock School.
The December 1957 roster of the OX53 Aviation Pioneers Club, an organization founded in 1955 that still exists today, includes Tom Penfield as a member. He enjoyed classical music, the Symphony Society, and shooting at the local rifle range using homemade ammunition. He lived a long life, dying in 1993 at age 96.

1 Dead stick landing is when a pilot shuts off propulsive power and lands the plane by gliding (without power the propeller is a "dead stick").
2 Allan Hancock founded the Hancock College of Aeronautics in 1928. He inherited Rancho La Brea including the La Brea tar pits, and was the owner of the La Brea Securities. In addition to be being an aviator and founding the aviation school (now Allan Hancock College), Allan Hancock was a musician, railroad engineer and sea captain.
3 The OX5 was the first mass produced aircraft engine.