John Ehlers Penfield (1897- 1932) – Short Lived Flying Twin and Modesto Pioneer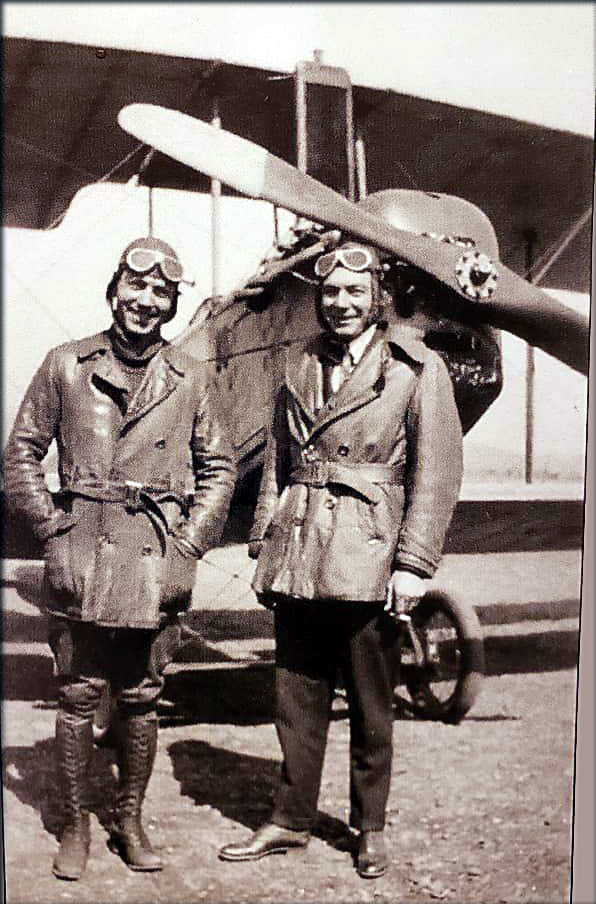 John Ehlers Penfield signed the Oakland Register several times beginning in March 1928. At that time it was about a 50 minute flight from his home airport in Modesto to Oakland flying at 80 mph, and using a compass for navigation. John's longest stay was when he and his twin brother, Tom, starred in the aerial portion of Howard Hughes' film, Hells Angels, spending October 29 to December 7, 1928 in Oakland using their planes in the dogfight scenes.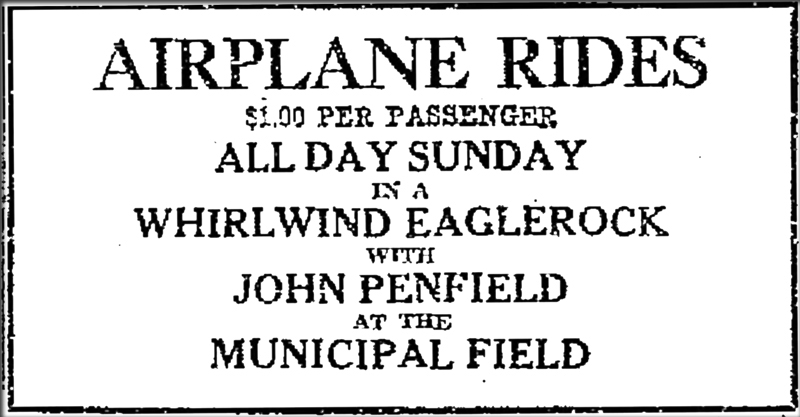 The twins were born on November 8, 1897 in San Diego, and had three older sisters. Their father was a carpenter and a farmer and they were farmers, too, until the day they observed army training planes at a fair in 1920. They purchased their first plane three years later for $500 and moved to Modesto in March 1927 to establish a flying school. The brothers offered passengers 10-minute jaunts over Modesto on Sundays for $1.00. John flew with transport license # 4047, and also had an engine and airplane mechanic's license.

At the dedication of the Sacramento Airport in April 1930, John Penfield won the 15-mile OX-5 (engine) powered race, a triangular course he flew in 8 minutes at a speed of two miles/minute.
He actively promoted flying and funding for flying fields as secretary of the Modesto Chapter of the National Aeronautical Association. In addition to flying passengers, John also used flying to sow 500 acres of rice in Woodland in May 1931.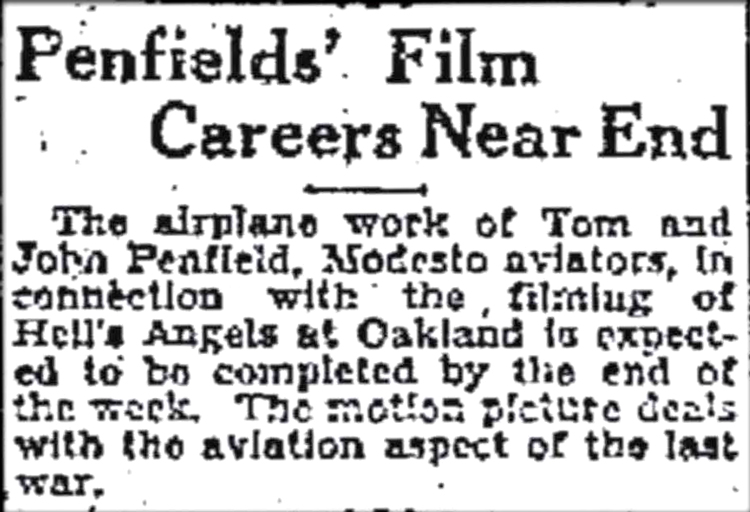 During a flying lesson on Friday the 13th, 1932, John told his student, William (Willie) Porter, to purposely put the plane in a tail spin at 5,000 feet – the standard last test for a new pilot. However, unable to get out of the spin, Willie gave up the controls and pulled himself out of the cockpit and onto the wing at 2,500 feet. His right foot got tangled and he was unable to separate from the plane momentarily. After untangling his foot, he fell head first for 200 feet before opening his parachute at 1,000 feet and landing in high tension wires 20 feet off the ground. Dangling like a pendulum, Willie cut himself free from the parachute ropes and dropped onto a barbed wire fence1. Meanwhile, the plane continued to descend rotating into a flat spin. At 150 feet, John Penfield crawled out onto one wing and tried to leap, but it was too late and his parachute never opened. He landed in an irrigation ditch and died almost immediately. His mother, who recently became widowed, became the administrator of his estate which was valued at less than $5,000.
1Having cheated death by jumping out of a falling plane and surviving with a parachute, William Porter became a lifetime member of the Caterpillar Club.