Lt George T. Cuddihy (1896-1929)- Fatal Crash Three Weeks After Oakland Stay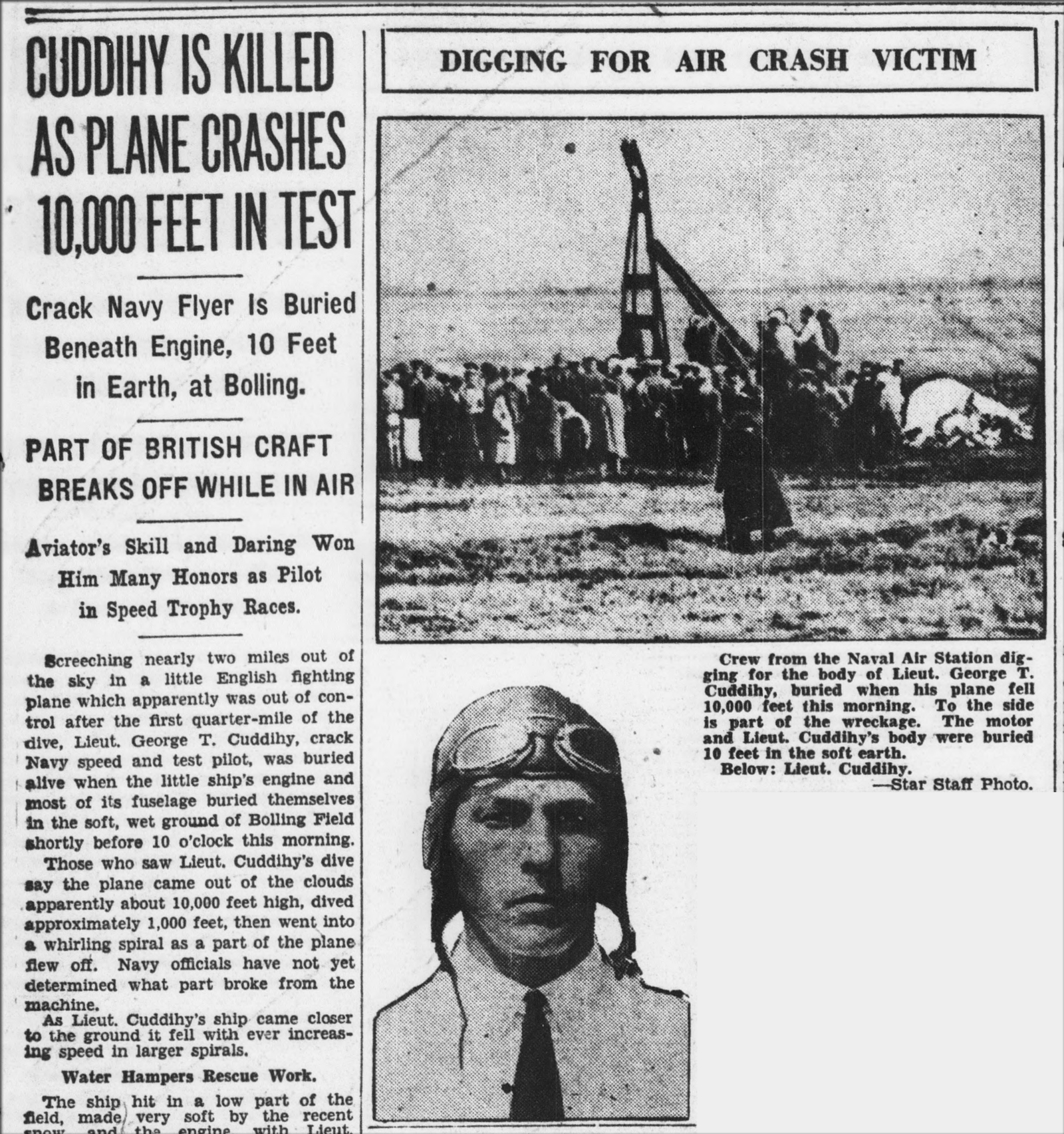 Flying a Ford Trimotor (8457) with David S. Ingalls, Assistant Secretary of the Navy for Aeronautics under President Henry Hoover, and 5 other passengers, Lieutenant (Lt) George Cuddihy landed at the Oakland Airport on November 4, 1929. The pilot and crew came from San Diego as part of a 10,000 mile tour of Navy air bases on the Pacific Coast. Specifically in the San Francisco Bay Area , Secretary Ingalls was inspecting potential sites in Sunnyvale, Napa, and Cotati for a proposed Naval Dirigible Base. They stayed two nights in Oakland before heading to Seattle.

Born in 1896 and raised in Michigan with two sisters, Lt Cuddihy was graduated from the Naval Academy in 1917. Designated a naval aviator in 1921, he established the world record for seaplane speed of 188 mph in 1924. By late 1929 he was the chief of the flight test division at the Anacostia Naval Air Station in Washington D.C. On November 25, Lt Cuddihy conducted the first American test of the UK's Bristol Bulldog airplane, deliberately diving from 10,000 feet. Losing control of the plane at 6,000 feet, he never released his parachute, and plunged 10 feet into the earth. At the surface only his feet were visible. Early the next year in March 1930 Lt Cuddihy was posthumously awarded the Navy's flying cross, and a field in Corpus Christi, Texas was named in his honor.

On an even darker note, the US Naval Academy's alumni Virtual Memorial Hall states that Lt. Cuddihy was a "confirmed misogynist"1. While no one likely is alive who can confirm this, this blatant statement shouldn't go unnoticed, and his potential abhorrent behavior should not be taken lightly by Naval Academy alumni nor other readers of history.

1https://usnamemorialhall.org/index.php/GEORGE_T._CUDDIHY,_LT,_USN