Hilton Frank Lusk (1902 - 1975) – Master of Aerodynamic Theory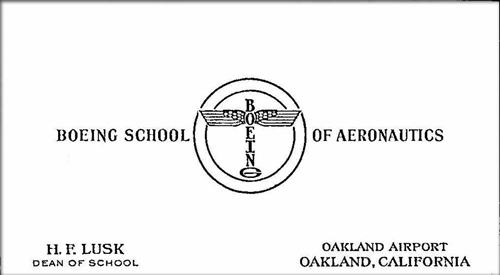 When 27-year-old Hilton Lusk landed his Eagle Rock in Oakland on September 8, 1929 he was coming home to start his new job as dean of the Boeing School of Aeronautics. He flew plane C4929, owned by M. Wright, with one passenger.
Hilton was three years old when he moved from Batavia, N.Y. with his parents and two older stepbrothers to Oakland. He was the only child of his father, a builder, and his mother, a deaconess at the 23rd Avenue Baptist Church in Oakland, and an active member of the Women's Christian Temperance Union1. Growing up, Hilton was also active in the Baptist church offering parishioners a radio concert in 1922.
After attending Oakland Technical High School, Hilton majored in Mechanical Engineering at the University of California at Berkeley. Soon thereafter, he obtained an M.S. in physics focusing on the kinetic theory of gas. In contrast to his churchgoing and scholarly ways, he secretly married a classmate at age 21 as a prank. Two years later his wife, claiming cruelty to the judge, was granted a divorce.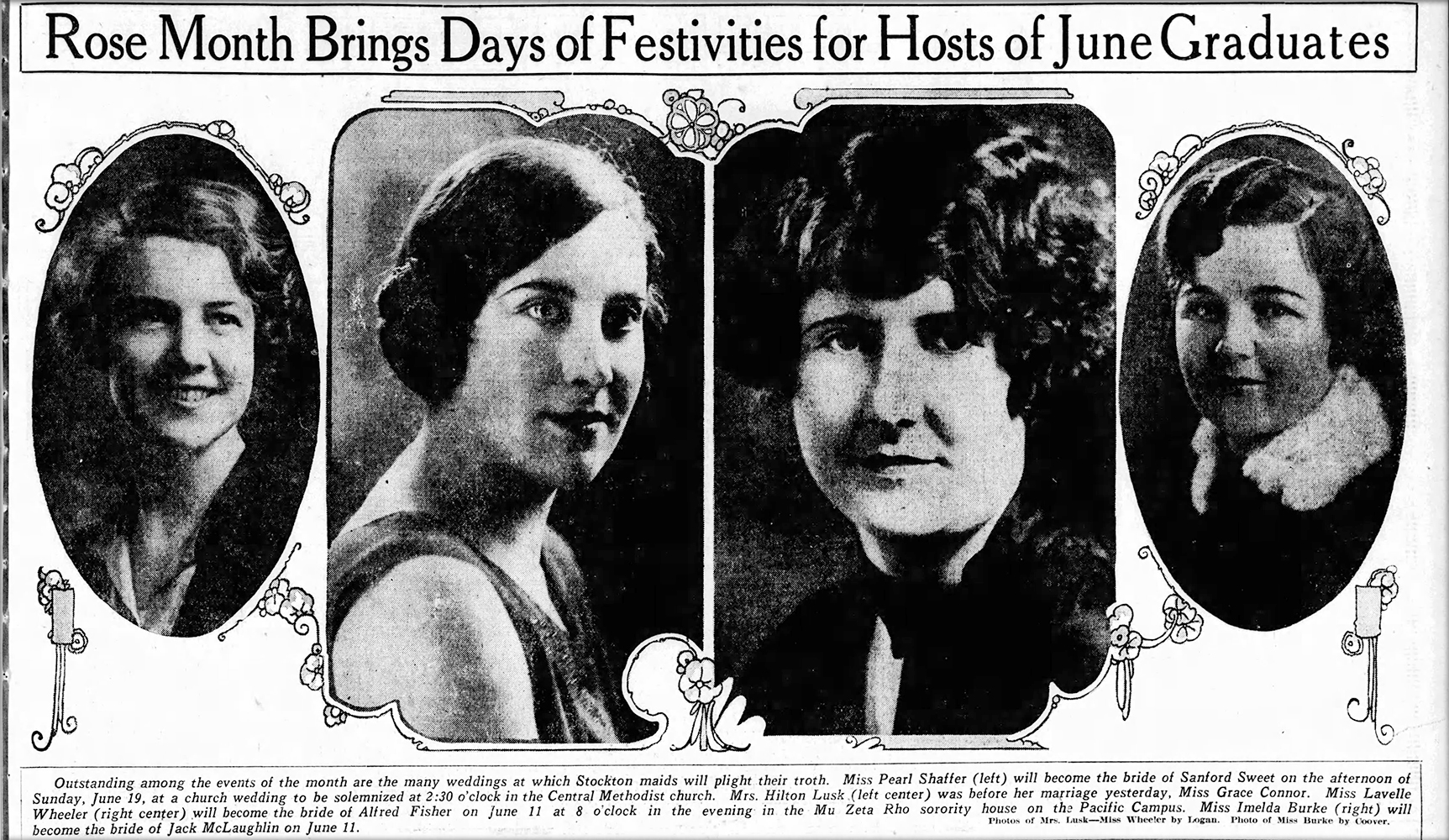 Getting married for life this time, Hilton, at age 25, married Bertha Connor, a graduate of Stockton's College of the Pacific, and a teacher. Newspapers featured their engagement and wedding. The couple both had religious parents: Bertha's father, a reverend, performed the wedding ceremony. They met at the College of the Pacific where Hilton, an associate engineering professor, also offered the first aeronautics curriculum plus flight training at an accredited college. To encourage women to enroll, the first woman student paid half price. During this time, Hilton invented a combination monoplane and speed boat that could travel over water at a speed of 38-50 miles per hour. He joined the Stockton Pilots and Aviators Association, and tracked California aviation legislation for the group.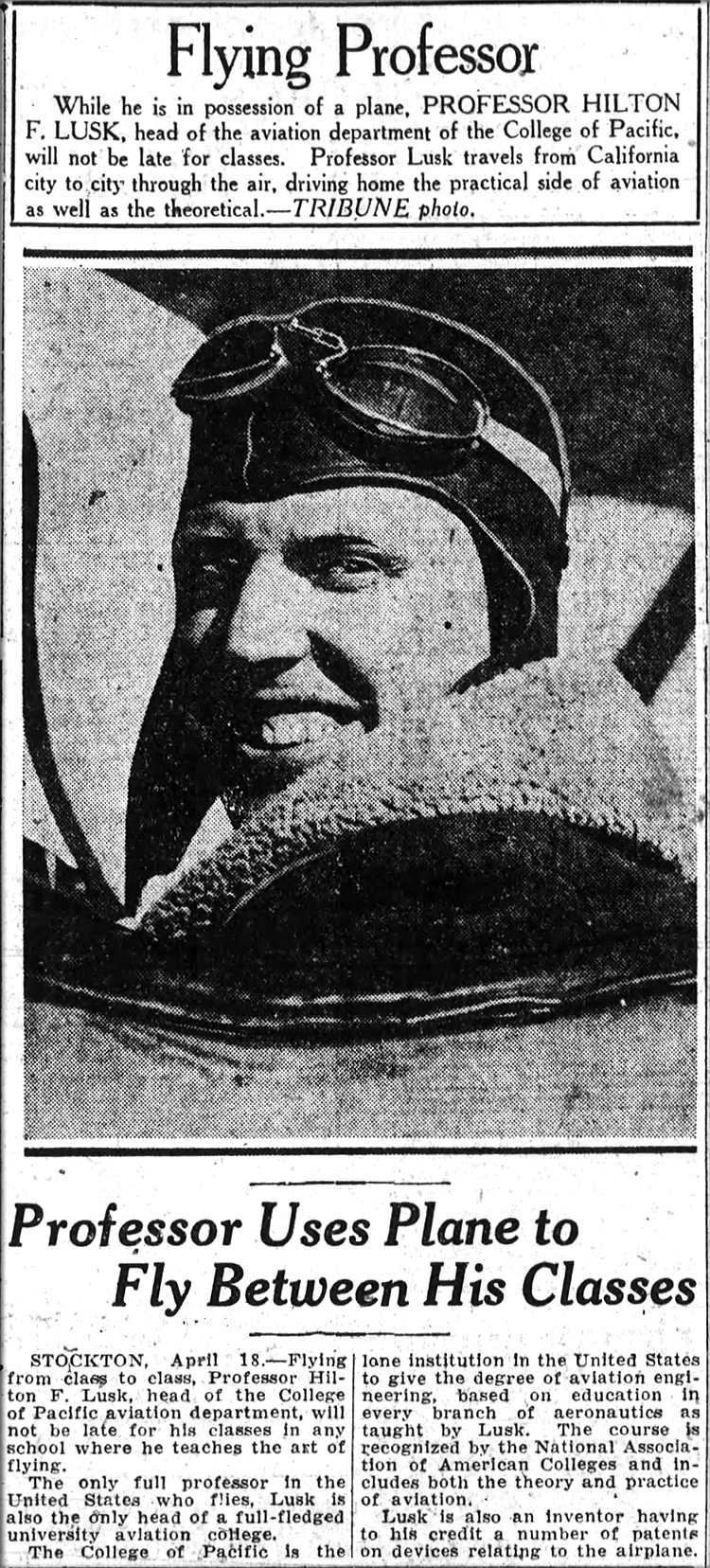 Within a few years, Hilton left the College of the Pacific to focus his teaching career entirely on aeronautics at Boeing's new school at the Oakland Airport. The Boeing School of Aeronautics, licensed by the aeronautical chamber of commerce, opened with 125 students and 14 faculty in September 1929. Meeting five times a week from 9 am to 4pm, the day school course could be completed in nine months. Evening classes were offered at 7:30 P.M. In addition to Hilton Lusk, Dean of the ground school, other instructors included Theodore Lee, Jr., General Manager, George Myers, chief flying instructor, W. E. Wright, director of the shop department, Dr. Edmund Padden, Flight surgeon, J. Milton, director of class instruction and welding, and C. O. Brinklinger, director of maintenance and service work. 23 subjects were taught including aerodynamics, heat power, law, aerial surveying, welding, communications, instruments, avigation, meteorology, airplanes and airplane engines. To promote the school, Hilton published "This School of Aeronautics is Different" in U.S. Air Services' September 1929 Magazine.
While in Oakland, Hilton joined the High Jumpers parachute club (becoming a member of the Caterpillar Club after voluntarily jumping out of a plane), and participated in the week-long Pacific Coast Aeronautical Exposition in the summer of 1930. The daily lectures included two by Professor Lusk: "The Autogyro" on June 29, and "Training the Airplane Mechanic" on July 1. The Boeing school lasted until 1945, but Hilton left in 1931.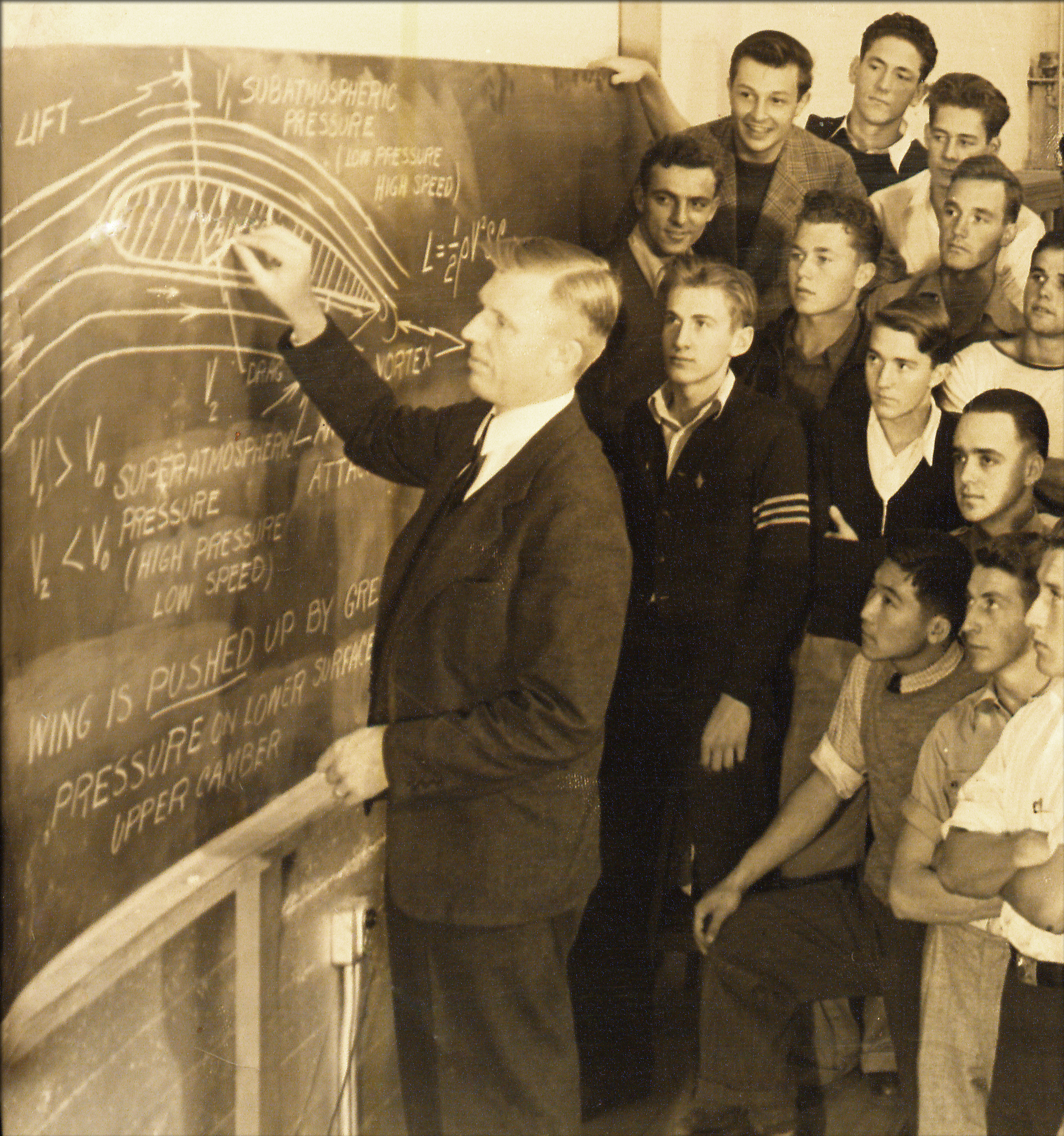 Hilton moved on to become director of the Sacramento Junior College's Technical Institute of Aeronautics. During his 22 years on the faculty, Hilton is credited with training 1,300 pilots prior to World War II, and many thereafter. About this time, he also chaired California's Chamber of Commerce Aeronautic Committee. While in Sacramento, he briefly managed the Sacramento Airport, and owned and operated L. & M. Flying Service charging $15/hour for flying instruction and $13/hour for charter trips. One flight brought California state Governor Rolph from the Sacramento Airport to the front of the grandstand of California's 1931 State Fair and Western States Exposition.
In addition to teaching, Hilton published "A General Text on Aeronautics in 1932 (considered one of the best aviation text books by the Aero Club of France), and numerous book reviews and articles for U.S. Air Services Magazine. Hilton Lusk's text book and articles "A Philosophy of Lift" (1931), "And Thus It Flies" (1932) are available online from the HathiTrust Digital Library.
Business card image upper right & teaching photo above left courtesy CA State Museum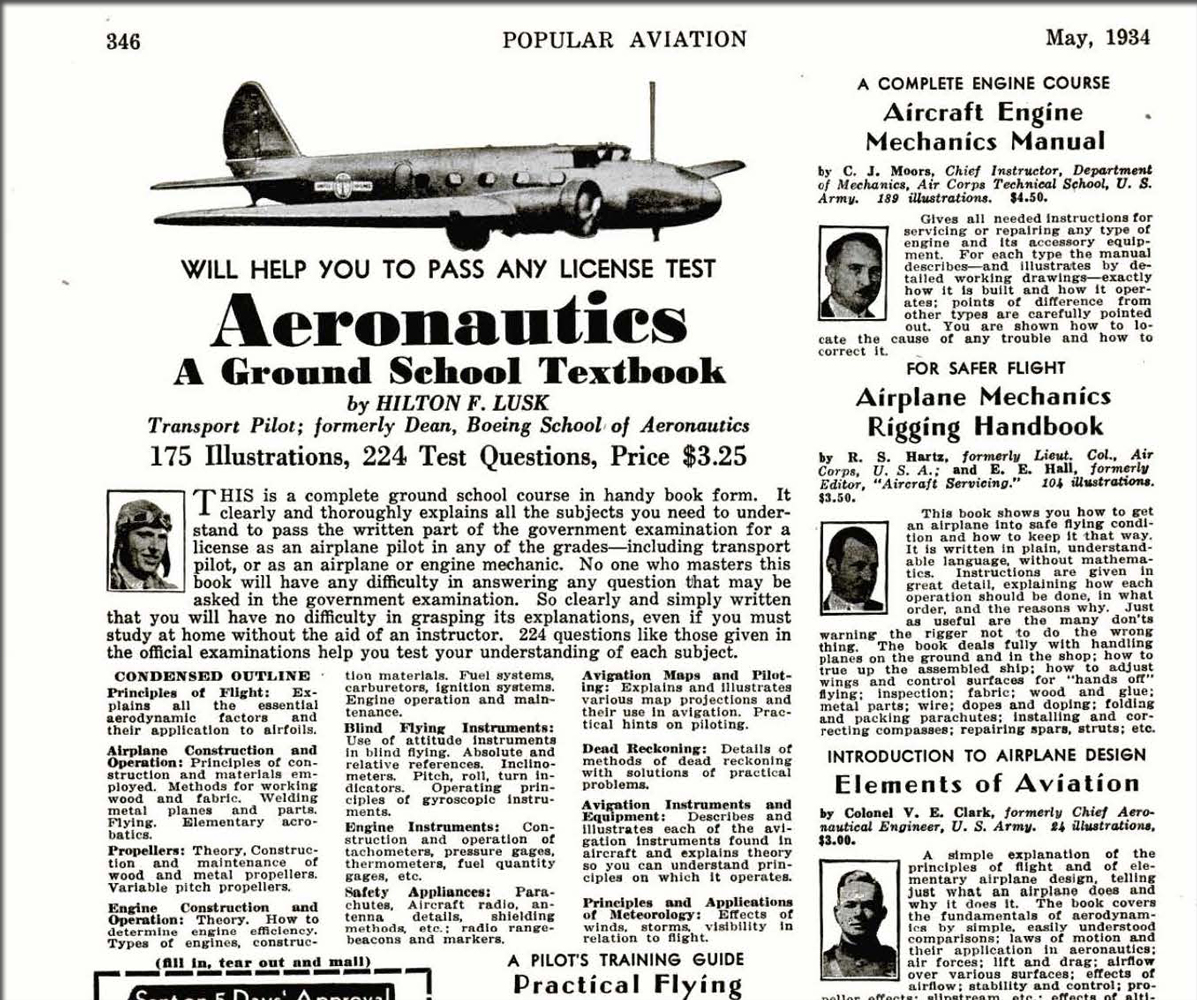 On a personal note, in March 1935, at age 32 Hilton and Bertha, age 31, had a daughter, Patricia Lusk. Patricia had no children.
In the mid-1950s Hilton worked as an equipment engineer for the California Division of Highways where he designed a special classroom trailer to teach preventative maintenance.
Ever inventive, Hilton had at least two patents: a force measuring instrument granted in 1955, and a crankcase emission liquid collector granted in 1966 to collect contaminants from internal combustion engines.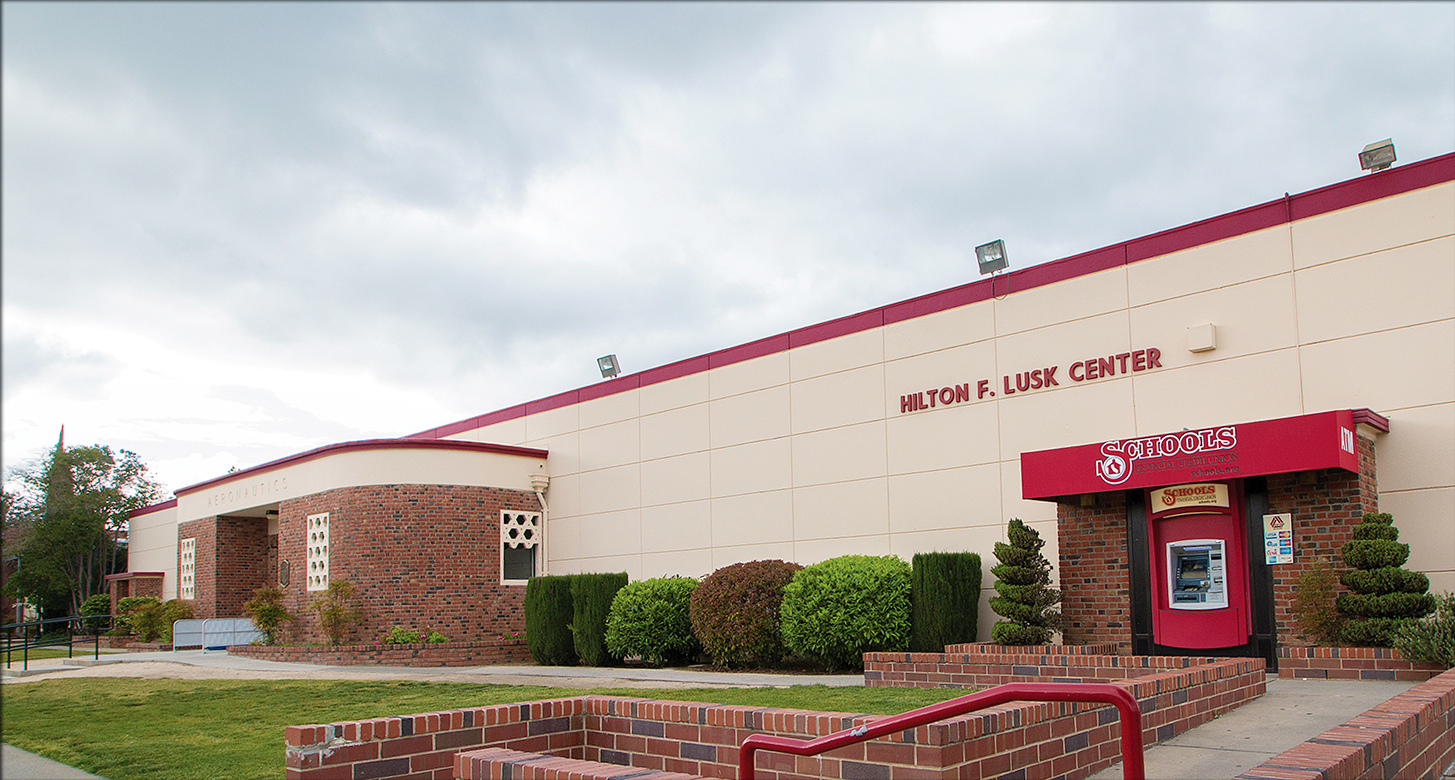 Hilton F. Lusk died in Sacramento at age 73. His legacy includes the Hilton F. Lusk Aeronautics Center at Sacramento City College, and the Hilton F. Lusk Collection (1928-1975) stored at the California State Library.
1Founded in 1873, this non-profit organization still actively supports various causes while requiring total abstinence from alcohol, illegal drugs and tobacco.